AMSTERDAM: YOUR GATEWAY DRUG TO TRAVEL
AMSTERDAM: YOUR GATEWAY DRUG TO TRAVEL [NO ACTUAL DRUGS NECESSARY]
by: DeAnna Domino
So many people want to see Europe but are intimidated, or are genuinely afraid of traveling abroad. My advice to those people is just go! Simple, right?
Despite the fact that I have been traveling since my early teens, I do not consider my self a well seasoned traveler (perhaps just an intermediate one). There were long periods of going nowhere (college) and even when I was able to take a trip abroad, it was only once every year or so.
Yes, I was lucky enough to go to Europe in tenth grade. Do not let this piece of information lead you down a rabbit hole of self doubt and "I can't do-it-ness". This is what I told my boyfriend, now husband, over and over again before he reluctantly agreed to take a European vacation with me. The trip was a simple three city tour: Amsterdam, Paris and London. No more than 3 days at each location. Twenty minutes into the trip, he was convinced, and we both felt relaxed. That's why I recommended this city as a great first time travel experience. Amsterdam is relaxing, but not boring (like say, the beach). My beach opinions aside, we have visited the city several times, often attaching it to a few new destinations to explore. The time we spent there left us in a happiness coma.
Much like life, a good trip has its ups and downs. Unexpected things will happen! Such as lost luggage (a major downer when you are as attached to your hair & makeup routine as I am). But there are also the unexpected ups, like making new friends at local pub. Friends who lend you their iPhone (overnight!) to contact the airline and get said luggage back. The friendliness of the people here really shocks me. Especially since this is such a main tourist destination! Below I've listed my favorite, not to be missed things to do in Amsterdam.
Whether it is Amsterdam or the Amalfi Coast, please go have an adventure, you'll be so glad you did! And Let me know how it goes! Let this 30-something-year old tell you that you regret the things you didn't do, rather than the things you did do.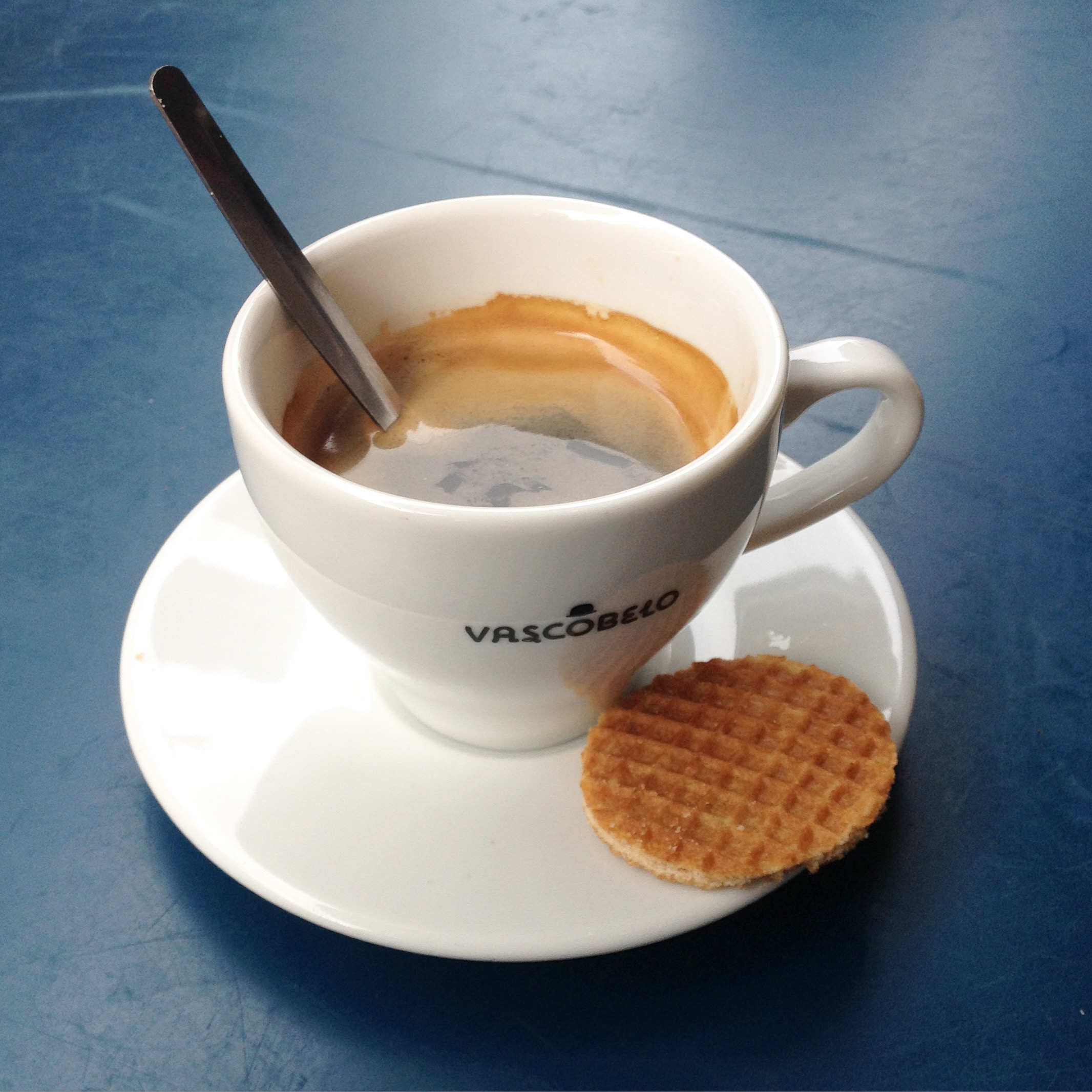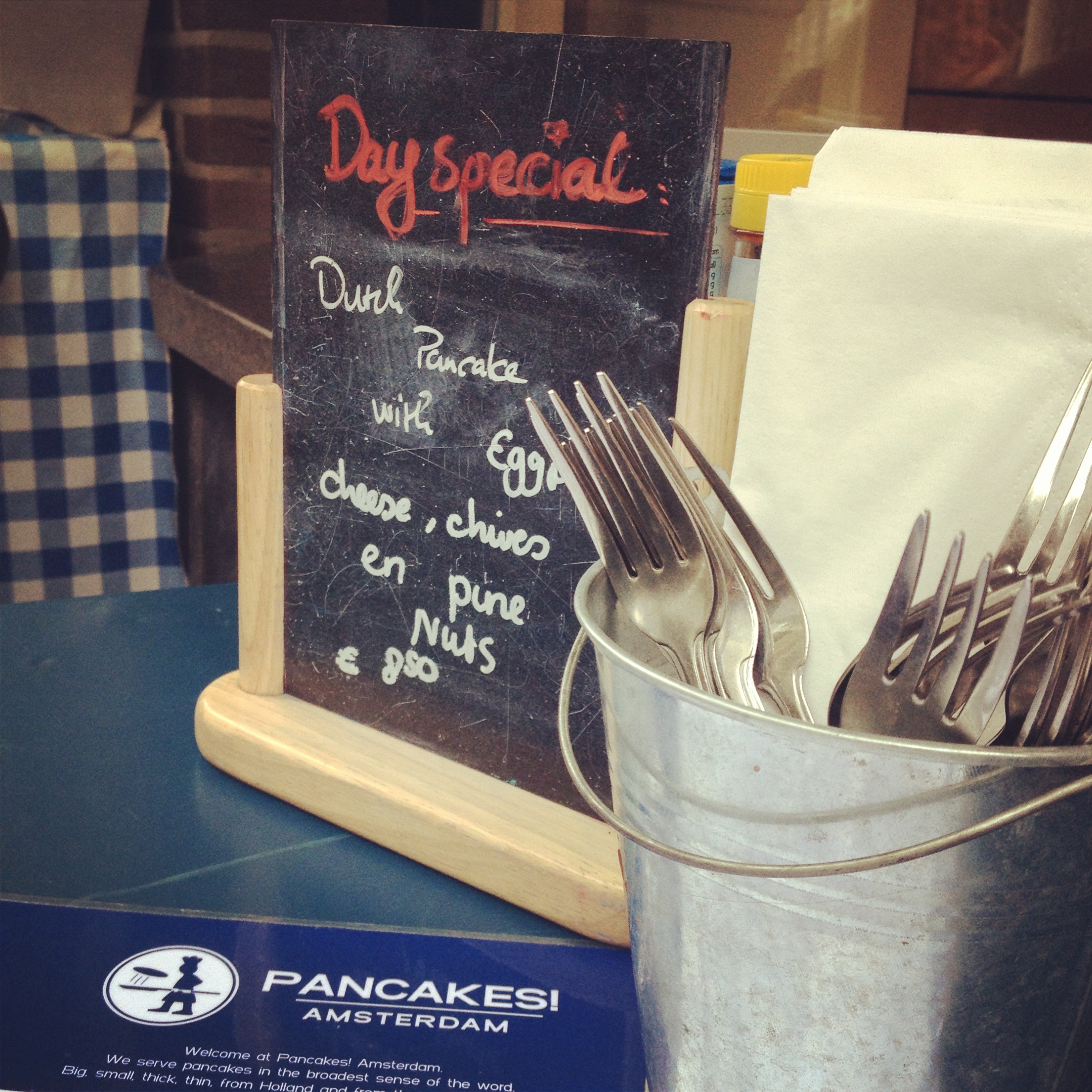 7 Things to Do in Amsterdam:
1. Eat Pancakes at PANCAKES!
Dutch pancakes are more like unfolded crepes than a fluffy American pancake. Also like crepes, you have your choice of many different toppings and fillings. My favorite is the spinach, brie and pine nut combination served at Pancakes! Yes, the exclamation point is part of their name, and believe me they've earned it. It is the best in city. Trust me, I did the leg work on this one. In this case the leg work being the bike rides from pancake restaurant to pancake restaurant. You have to work off that brie some how!
Pancakes!
Berenstraat 38, 1016 GH Amsterdam, Netherlands
2. Rent a Bike from Black Bikes
The service is friendly and rental is fairly easy, just provide a credit card deposit and you're on your way. Rent the bikes for as little or a long as you like. We used it as our main mode of transportation for the duration of the trip and it was a blast. Black Bikes is one the few bike rental companies that allows you to rent a plain black bike. If you opt for one of the other rental companies you'll be stuck with a garish beach cruiser that is also a moving billboard for the rental company. No thanks. This way you can have a plain black bike, just like the locals are riding. Chances are you won't convince any of the residents, but you'll definitely have the
other tourists fooled.
Black Bikes Rembrandtplein
Bicycle Rental Service
Reguliersdwarsstraat 84+31 85 273 7454
3. Sleep on a Canal Boat
We rented one through AirBnB. It was at the top of our accommodation budget but it turned out to be money well spent, truly a highlight of the trip. I can't tell you how much my husband & I enjoyed sitting on the dock attached to the boat while we sipped our wine and watched all the other boats go by. For the best scenery, choose a boat nearer to the city center. Our boat was docked just outside of the "Dancing Houses."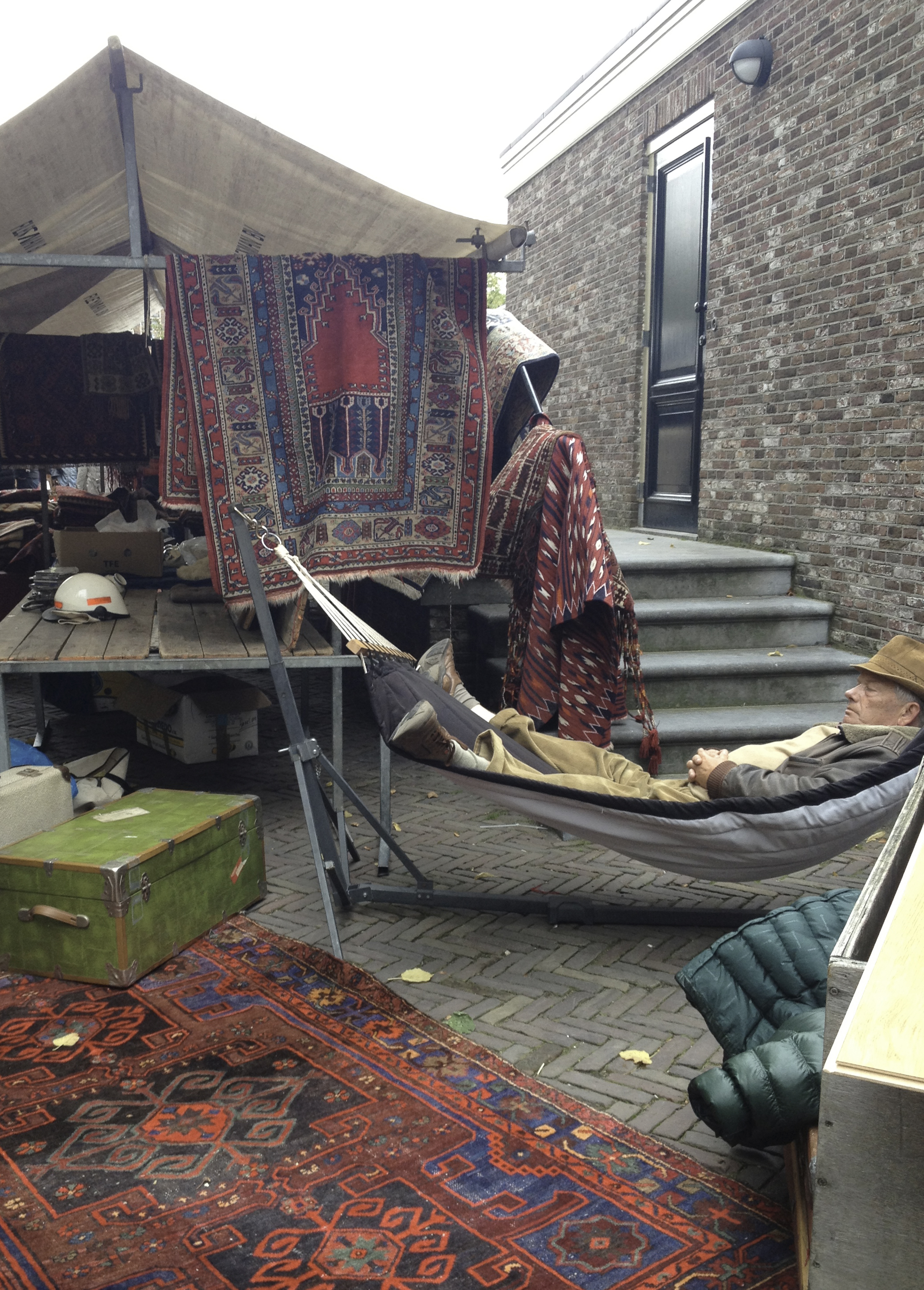 4. Shop the local food Markets
… And skip the flower bulb market. It is just a tourist trap! I really don't find bins of bulbs that visually interesting, you probably won't either. It is also quite crowded and in my opinion, not worth the aggravation. Instead I recommend pursuing the local farmer's markets, or as the Europeans call them "markets." We sampled fresh grilled mushrooms with butter & parsley. So simple, so delicious! There you can buy everything you need for your Vondelpark picnic or your canal side wine & cheese feast. I must admit I really take Rick Steves' advice and eat mostly picnic style while traveling. It is so lovely to sit outdoors and people watch. Most importantly, it leaves room in your budget for that amazing meal. You know the one, the one where you blow your entire caloric and monetary budget in one go. Plus how many gut busting meals can you really have on one vacation? The simplicity of grapes and a baguette go along way for me.
Noordermarkt – Boerenmarkt Noordermarkt, 1015 MV Amsterdam
Open Saturdays 9am-5pm
5. Visit the Rijksmuseum
It is one of my favorite Museums. Not only is it beautiful both inside and out, I feel like it is one of the few worth the price tag. For whatever reason I never found it to be quite as crowded as the other big named Euro Museums. Since we were smart enough to avoid the weekend and peek season (in Paris & Florence those precautions make little difference), it was a lovely day of Dutch portraits and still life paintings. After viewing the art, have an espresso and a freshly made stroopwafel in the lovely gardens outside the museum.

6. Dine with the Dutch
Sightseeing is one thing, but meeting people that call Amsterdam their home is quite another. It can be hard to just make friends when traveling if you are shy. Dining with the Dutch will remove that from the equation. This company matches you with a Dutch family or couple who will cook you (and maybe other travelers) dinner in their home. My husband & I really enjoyed this. The wine and conversation flowed all night!
7. Eat at Pasta e Basta
Super Cheesy, SUPER FUN! A multi course Italian dinner served family style with (talented!) singing waiters. We stumbled on this place when everything else was closed, but it is actually quite popular. FYI: Things close early or aren't open at all on Sundays. I recommend making reservations AND ordering the Risotto with the fried sage.
Nieuwe Spiegelstraat 8, 1017 DE Amsterdam, Netherlands
// DEANNA